Tadoba Jeep Safari; Tadoba-Andhari Tiger Reserve
Tadoba National Park is situated in the Chandrapur district of the Maharashtra State of India. Tadoba-Andhari Tiger Reserve (TATR) is the largest reserved forest area in Maharashtra, with a total area of 625.4 square kilometers. This includes Tadoba National Park, created in 1955 with an area of 116.55 square kilometers and Andhari Wildlife Sanctuary created in 1986 covering an area of 508.85 square kilometers. The rest of the forested area forms the fringes and buffer zones.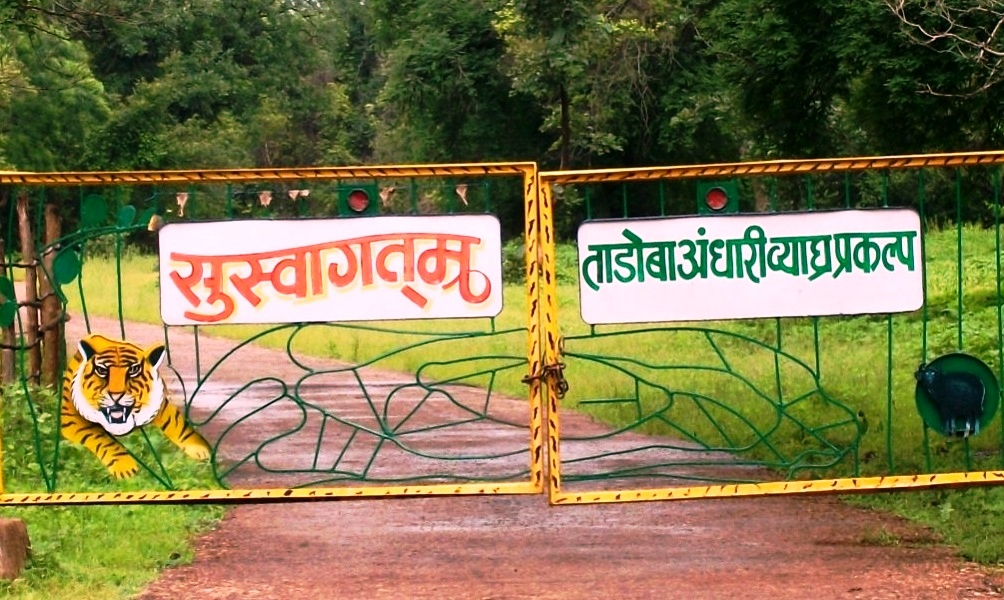 The park derives its name from 'Taru' a local deity, whereas the Andhari river that meanders through the forest gives the sanctuary its name. Tadoba-Andhari Tiger Reserve also has several lakes, wetlands and a reservoir of dam on Andhari river. Census details show that the tiger population in Tadoba-Andhari Tiger Reserve (TATR) is going steady with 65 big cats, excluding 20-odd cubs sighted in this wilderness, according to park officials, which is encouraging still.
Usually users who visit on this is site; think this site is might be the official website of Tadoba-Andhari Tiger Reserve or Tadoba-Andhari National Park. But, it is not true; this is a private tour and Travel Company's website. You can say that they are approved by the Ministry Of Tourism (Govt. Of India) belongs to such an individuals who deal in online Tadoba safari booking, online Tadoba jeep safari booking, online Tadoba forest lodge booking, online Tadoba elephant safari booking, Tadoba Jungle booking, online Tadoba safari booking, online Tadoba jungle tour packages, online Tadoba Jeep and Jungle safari booking, online Tadoba forest resort booking, Tadoba online jeep booking, Tadoba Tiger Reserve, online Tadoba jungle safari booking, Tadoba national park booking, Tadoba-Andhari National Park, online Tadoba resorts, hotels booking, online Tadoba forest rest house booking and Online Tadoba-Andhari National Park packages booking. We are bound to follow the same rules and regulations which are directed by The Tadoba Tiger Reserve & Maharashtra Government. The source of the data & information relating to Tadoba national park is also available on the official website of Tadoba tiger reserve.
Tadoba wilderness is an infinite treasure trove of innumerable species of trees, plants and grasses; Bamboo is the dominant species that accounts for more than sixty percent of the total forest cover, sal, the broad-leafed and groves of jamun. Wildlife that includes tigers, leopards, sloth bears, hyenas, jackals, wild dogs, gaur, barking deer, nilgai, sambar, and cheetal, and, two rare species that are sighted here- the elusive treeshrew and the brow-antlered deer or chausingha. Numerous species of birds, reptiles and insects are also native to these forests. The reserve has three administrative zones; Moharli, Tadoba, and Kolsa, with a different entry gate for each of them. Moharli gate is the most popular entry point, due to its proximity to Chandrapur, the nearest railhead.

Read: Do's & Don'ts Of Tadoba Jungle Safari
It is important to plan your trip well in advance, as the reserve has a very limited number of places to stay and sasfari facilities. Elephant rides are also available in the park.
Best time to visit Tadoba National Park:
The park is open for most of the year but the best time to visit is from November to May. In the summer when water becomes scarce most of the animals including tigers can be seen near watering holes. Tigers can be spotted in April and May but the temperature can really shoot up to 46 degrees.
Jungle Safari in Tadoba National Park
Jungle Safari: Jeep will pickup from hotel 30 min before jungle safari starts. Our local representative will arrange all the bookings. Morning Safari starts at 0600 Hrs and ends at 1100 Hrs. Afternoon Safari begins at 1500 Hrs and end at 1830 Hrs. These vehicles are safe and comfortable. Entrance to the Tadoba Tiger Reserve is for limited number of visitors. The visitors need to carry their Photo Id if they enter on tickets purchased in advance.
NOTE: The Tiger Reserve is closed on Tuesdays so we request you to plan your itinerary accordingly.
Confirm Tadoba Jeep Safari Booking