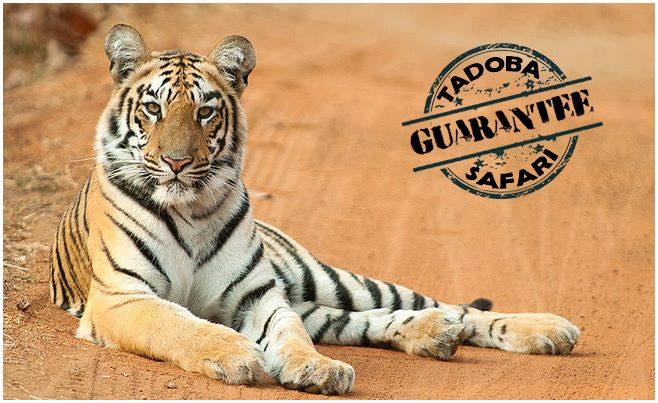 Jungle Safari: Jeep will pickup from hotel 30 min before jungle safari starts. Our local representative will arrange all the bookings. Morning Safari starts at 0600 Hrs and ends at 1100 Hrs. Afternoon Safari begins at 1500 Hrs and end at 1830 Hrs. These vehicles are safe and comfortable. Entrance to the Tadoba Tiger Reserve is for limited number of visitors. The visitors need to carry their Photo Id if they enter on tickets purchased in advance.

Only one jungle safari vehicle in one name will be allowed to enter into the Tadoba-Andhari Tiger Reserve at a time. If one person book more than one tadoba jungle safari at a time only first vehicle with leader present in it will be allowed to enter and remaining entries will automatically deemed terminate without any money back. Any claim in this regard will not be entertained. So travelers are requested to book only single tadoba jeep safari with one name at a time to prevent inconvenience at the gate of tiger reserve.
Tadoba Jungle/Jeep Safari Timings
Period
Morning
Afternoon
Entry
Exit
Entry
Exit
1st Oct to 30th Nov
6 am - 8 am
10 am
2.30pm – 4pm
6.30pm
1st Dec to 28th / 29th Feb
6.30am - 8.30am
11am
2pm – 3.30pm
6pm
1st Mar to 30th April
5.30am – 7.30am
10am
3pm – 4.30pm
6.30pm
1st May – 30thJune
5am – 7am
9.30am
3.30pm – 5pm
7pm
Violation of any of above restriction will be penalized by fine not less than Rs. 500/- and may extend up to Rs. 2,500/-. In case violation is done by registered Gypsy/ canter owner or guide along with fine, his authorization to enter Tiger Reserve tourism zone will be suspended for minimum 7 days, which may extend up to one month. Any violation done by tourist should be reported to nearest park authority by tourist guide immediately failing he will be treated as violator himself.